Futura Stainless Steel Pressure Cooker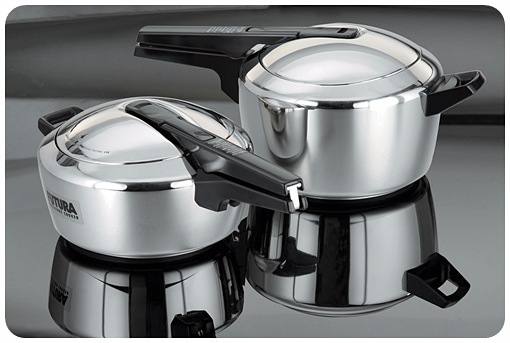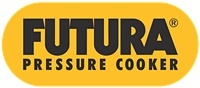 The beautiful form and function of the Futura Pressure Cooker - executed in stainless steel.

The 7 mm thick base contains a 4.9 mm thick aluminium disc sandwiched in stainless steel for efficient heat dispersion.

Futura cooks on average 46% faster than a microwave oven.

The unique pressure regulating system gives you the convenience of finger-tip pressure release and prevents clogging of the steam vent. The double-thick base stays flat, heats evenly and is ideal for light frying before pressure cooking. Suitable for gas, electric, ceramic and halogen cooktops.
The stainless steel cooker body and grid may be washed in a dishwasher but this may dull the mirror finish. Do not put the lid, sealing ring or pressure regulator in the dishwasher.
Listed below are the different models of

Futura Stainless Steel Pressure Cooker


Prices shown are Maximum Retail Prices (M.R.P.) in Indian Rupees applicable in India

Futura St. Steel 4 Ltr.
CODE:F55
MRP: 3750
Ideal for cooking for:
4-6 Persons
Base flat diameter:
185 mm
Base thickness:
7 mm
Carton dimensions (WxDxH):
415 x 250 x 180 mm
Product weight in carton:
3.69 kg

Futura St. Steel 5.5 Ltr.
CODE:F50
MRP: 4100
Ideal for cooking for:
6-7 Persons
Base flat diameter:
185 mm
Base thickness:
7 mm
Carton dimensions (WxDxH):
415 x 250 x 210 mm
Product weight in carton:
4.1 kg