Futura Frying Pans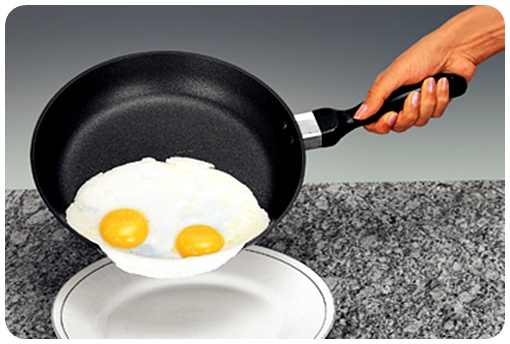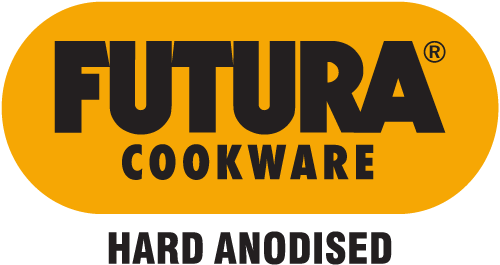 Hard Anodised

The extra thickness of the Futura Hard Anodised Frying Pans helps you cook without burning with minimal heat control. The instruction manual which comes with each frying pan gives easy tips for use and care as well as tested recipes. The handles, whether plastic or stainless steel, are stay-cool and comfortable.

The frying pan with rounded sides has extra height to prevent spilling of food while stirring. The Tadka Pan (Spice Heating Pan) is designed for quick heating of flavourful spices and is also useful for melting butter or reheating small quantities of food.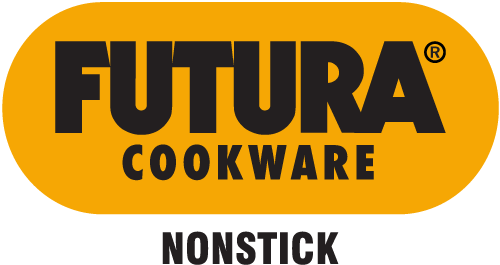 Nonstick

Apart from the frying pan with rounded sides and extra height, this range also has the Futura Nonstick All-Purpose Pans which are deeper and can be used for sautéing, stir-frying and deep-frying in addition to their use as a frying pan. The All-Purpose Pan comes with a single long handle and, in a larger capacity, with two short handles. Both All-Purpose Pans have snug-fit dome-shaped lids which are suitable for simmering; and the All-Purpose Pan with two short handles makes an elegant serving bowl as well.
Listed below are the different models of Futura Frying Pans




Prices shown are Maximum Retail Prices (M.R.P.) in Indian Rupees applicable in India

All induction compatible cookware on this colour background

HARD ANODISED

NONSTICK

Tadka Pan 1 Cup
CODE:ATP1
(Spice Heating Pan)
MRP: 395
Diameter:
10 cm
Thickness:
3.25 mm
Carton dimensions (WxDxH):
320 x 108 x 52 mm
Product weight in carton:
0.35 kg

Tadka Pan 2 Cup
CODE:ATP2
(Spice Heating Pan)
MRP: 500
Diameter:
12 cm
Thickness:
3.25 mm
Carton dimensions (WxDxH):
352 x 135 x 68 mm
Product weight in carton:
0.47 kg

Frying Pan 18 cm
CODE:AF18
MRP: 850
Diameter:
18 cm
Thickness:
4.06 mm
Carton dimensions (WxDxH):
340 x 194 x 72 mm
Product weight in carton:
0.85 kg

Frying Pan 18 cm
CODE:AF18S
with stainless steel lid
MRP: 1090
Diameter:
18 cm
Thickness:
4.06 mm
Carton dimensions (WxDxH):
340 x 194 x 72 mm
Product weight in carton:
0.98 kg

Frying Pan 22 cm
CODE:AF22
MRP: 975
Diameter:
22 cm
Thickness:
4.06 mm
Carton dimensions (WxDxH):
378 x 231 x 86 mm
Product weight in carton:
1.13 kg

Frying Pan 22 cm
CODE:AF22S
with stainless steel lid
MRP: 1240
Diameter:
22 cm
Thickness:
4.06 mm
Carton dimensions (WxDxH):
378 x 231 x 86 mm
Product weight in carton:
1.3 kg

Frying Pan 22 cm with Glass lid
CODE:AF22G
MRP: 1240
Diameter:
22 cm
Thickness:
4.06 mm
Carton dimensions (WxDxH):
378 x 231 x 86 mm
Product weight in carton:
1.58 kg

Frying Pan (Rounded Sides) 22 cm
CODE:AF22R
rounded sides
MRP: 1010
Diameter:
22 cm
Thickness:
4.06 mm
Carton dimensions (WxDxH):
381 x 237 x 89 mm
Product weight in carton:
1.17 kg

Frying Pan (Rounded Sides) 22 cm
CODE:AF22RS
rounded sides
MRP: 1275
Diameter:
22 cm
Thickness:
4.06 mm
Carton dimensions (WxDxH):
381 x 237 x 89 mm
Product weight in carton:
1.34 kg

Frying Pan 22 cm
CODE:IAF22
MRP: 1095
Diameter:
22 cm
Thickness:
4.06 mm
Carton dimensions (WxDxH):
388 x 239 x 81 mm
Product weight in carton:
1.12 kg

Frying Pan 22 cm
CODE:IAF22S
with stainless steel lid
MRP: 1360
Diameter:
22 cm
Thickness:
4.06 mm
Carton dimensions (WxDxH):
388 x 239 x 81 mm
Product weight in carton:
1.34 kg

Frying Pan 25 cm
CODE:AF25
MRP: 1210
Diameter:
25 cm
Thickness:
4.06 mm
Carton dimensions (WxDxH):
415 x 271 x 93 mm
Product weight in carton:
1.32 kg

Frying Pan 25 cm
CODE:AF25S
with stainless steel lid
MRP: 1540
Diameter:
25 cm
Thickness:
4.06 mm
Carton dimensions (WxDxH):
415 x 271 x 93 mm
Product weight in carton:
1.55 kg

Frying Pan 25 cm
CODE:IAF25
MRP: 1360
Diameter:
25 cm
Thickness:
4.06 mm
Carton dimensions (WxDxH):
415 x 271 x 93 mm
Product weight in carton:
1.44 kg

Frying Pan 25 cm
CODE:IAF25S
with stainless steel lid
MRP: 1690
Diameter:
25 cm
Thickness:
4.06 mm
Carton dimensions (WxDxH):
415 x 271 x 93 mm
Product weight in carton:
1.64 kg

Frying Pan (Stainless Steel Handle) 30 cm
CODE:AF30
MRP: 1575
Diameter:
30 cm
Thickness:
4.06 mm
Carton dimensions (WxDxH):
523 x 311 x 96 mm
Product weight in carton:
1.84 kg

Frying Pan (Stainless Steel Handle) 30 cm
CODE:AF30S
with stainless steel lid
MRP: 1975
Diameter:
30 cm
Thickness:
4.06 mm
Carton dimensions (WxDxH):
523 x 311 x 96 mm
Product weight in carton:
2.15 kg

Frying Pan 18 cm
CODE:NF18
MRP: 850
Diameter:
18 cm
Thickness:
3.25 mm
Carton dimensions (WxDxH):
355 x 206 x 67 mm
Product weight in carton:
0.83 kg

Frying Pan 18 cm
CODE:NF18S
with stainless steel lid
MRP: 1090
Diameter:
18 cm
Thickness:
3.25 mm
Carton dimensions (WxDxH):
355 x 206 x 67 mm
Product weight in carton:
0.98 kg

Frying Pan 22 cm
CODE:NF22
MRP: 975
Diameter:
22 cm
Thickness:
3.25 mm
Carton dimensions (WxDxH):
399 x 255 x 67 mm
Product weight in carton:
0.97 kg

Frying Pan 22 cm
CODE:NF22S
with stainless steel lid
MRP: 1240
Diameter:
22 cm
Thickness:
3.25 mm
Carton dimensions (WxDxH):
399 x 255 x 67 mm
Product weight in carton:
1.16 kg

Frying Pan 22 cm with Glass lid
CODE:NF22G
MRP: 1240
Diameter:
22 cm
Thickness:
3.25 mm
Carton dimensions (WxDxH):
389 x 242 x 99 mm
Product weight in carton:
1.43 kg

Frying Pan 22 cm
CODE:INF22
MRP: 1095
Diameter:
22 cm
Thickness:
3.25 mm
Carton dimensions (WxDxH):
392 x 238 x 88 mm
Product weight in carton:
1.01 kg

Frying Pan 22 cm
CODE:INF22S
with stainless steel lid
MRP: 1360
Diameter:
22 cm
Thickness:
3.25 mm
Carton dimensions (WxDxH):
392 x 238 x 88 mm
Product weight in carton:
1.2 kg

Frying Pan 26 cm
CODE:NF26
MRP: 1210
Diameter:
26 cm
Thickness:
3.25 mm
Carton dimensions (WxDxH):
426 x 293 x 74 mm
Product weight in carton:
1.22 kg

Frying Pan 26 cm
CODE:NF26S
with stainless steel lid
MRP: 1540
Diameter:
26 cm
Thickness:
3.25 mm
Carton dimensions (WxDxH):
426 x 293 x 74 mm
Product weight in carton:
1.44 kg

Frying Pan 26 cm
CODE:INF26
MRP: 1360
Diameter:
26 cm
Thickness:
3.25 mm
Carton dimensions (WxDxH):
426 x 293 x 74 mm
Product weight in carton:
1.35 kg

Frying Pan 26 cm
CODE:INF26S
with stainless steel lid
MRP: 1690
Diameter:
26 cm
Thickness:
3.25 mm
Carton dimensions (WxDxH):
426 x 293 x 74 mm
Product weight in carton:
1.63 kg

Frying Pan 26 cm with Glass lid
CODE:NF26G
MRP: 1540
Diameter:
26 cm
Thickness:
3.25 mm
Carton dimensions (WxDxH):
408 x 280 x 101 mm
Product weight in carton:
1.89 kg

Frying Pan (Rounded Sides) 26 cm
CODE:NF26R
rounded sides
MRP: 1280
Diameter:
26 cm
Thickness:
3.25 mm
Carton dimensions (WxDxH):
426 x 293 x 88 mm
Product weight in carton:
1.34 kg

Frying Pan (Rounded Sides) 26 cm
CODE:NF26RS
rounded sides
MRP: 1610
Diameter:
26 cm
Thickness:
3.25 mm
Carton dimensions (WxDxH):
426 x 293 x 88 mm
Product weight in carton:
1.59 kg

Frying Pan 30 cm
CODE:NF30
MRP: 1575
Diameter:
30 cm
Thickness:
3.25 mm
Carton dimensions (WxDxH):
492 x 335 x 84 mm
Product weight in carton:
1.54 kg

Frying Pan 30 cm
CODE:NF30S
with stainless steel lid
MRP: 1975
Diameter:
30 cm
Thickness:
3.25 mm
Carton dimensions (WxDxH):
492 x 335 x 84 mm
Product weight in carton:
1.85 kg

Frying Pan 30 cm
CODE:INFS30
MRP: 1800
Diameter:
30 cm
Thickness:
3.25 mm
Carton dimensions (WxDxH):
539 x 337 x 108 mm
Product weight in carton:
1.81 kg

Frying Pan 30 cm
CODE:INFS30S
with stainless steel lid
MRP: 2200
Diameter:
30 cm
Thickness:
3.25 mm
Carton dimensions (WxDxH):
539 x 337 x 108 mm
Product weight in carton:
2.1 kg

All Purpose Pan 2.5 Litre
CODE:NAP25
with stainless steel lid
MRP: 1575
Diameter:
22 cm
Thickness:
3.25 mm
Carton dimensions (WxDxH):
401 x 253 x 112 mm
Product weight in carton:
1.52 kg

All Purpose Pan 3 Litre
CODE:NAP30
with stainless steel lid
MRP: 1825
Diameter:
22 cm
Thickness:
3.25 mm
Carton dimensions (WxDxH):
309 x 285 x 129 mm
Product weight in carton:
1.7 kg