Futura Deep-Fry Pans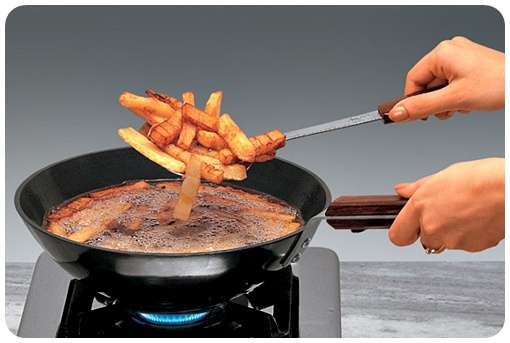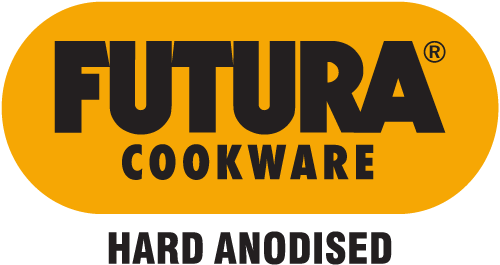 Hard Anodised

All Futura Hard Anodised Deep-Fry Pans are distinguished by elegant, comfortable rosewood handles fixed on sturdy stainless steel brackets which are permanently rivetted to the pans. All (except the smallest pan) have a flat bottom for stability. All have curved sides suitable for deep-frying and stir-frying.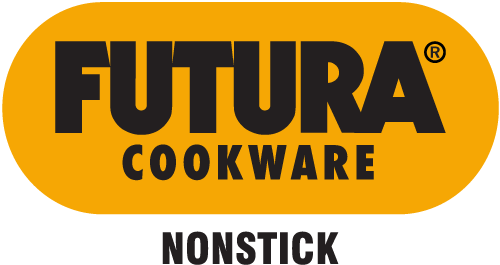 Nonstick

All but one of the Futura Nonstick Deep-Fry Pans have a round bottom and two short handles. The exception is then 2 litre Deep-Fry Pan (Stir-Fry Pan) with a flat bottom and a single long handle. The round bottom pans are also eminently suitable for stir-frying. The Breakfast Pan (Appachatty) with 0.9 litre capacity, round bottom and two rosewood handles, is ideal for the quick cooking of a variety of Indian and Western breakfast dishes.
Listed below are the different models of Futura Deep-Fry Pans




Prices shown are Maximum Retail Prices (M.R.P.) in Indian Rupees applicable in India

All induction compatible cookware on this colour background

HARD ANODISED

NONSTICK

Deep-Fry Pan (Round Bottom) 1.5 Litre
CODE:AK15
(Kadhai)
MRP: 1080
Diameter:
22 cm
Thickness:
3.25 mm
Carton dimensions (WxDxH):
314 x 228 x 112 mm
Product weight in carton:
1 kg

Deep-Fry Pan (Round Bottom) 1.5 Litre
CODE:AK15S
with stainless steel lid
MRP: 1390
Diameter:
22 cm
Thickness:
3.25 mm
Carton dimensions (WxDxH):
314 x 228 x 112 mm
Product weight in carton:
1.18 kg

Deep-Fry Pan (Round Bottom) 1.5 Litre
CODE:AK15G
with glass lid
MRP: 1390
Diameter:
22 cm
Thickness:
3.25 mm
Carton dimensions (WxDxH):
329 x 241 x 126 mm
Product weight in carton:
1.58 kg

Deep-Fry Pan (Flat Bottom) 2 Litre
CODE:AD20
with 2 short handles
MRP: 1440
Diameter:
25.5 cm
Thickness:
3.25 mm
Carton dimensions (WxDxH):
385 x 279 x 114 mm
Product weight in carton:
1.37 kg

Deep-Fry Pan (Flat Bottom) 2 Litre with Glass lid
CODE:AD20G
with 2 short handles
MRP: 1800
Diameter:
26.1 cm
Thickness:
3.25 mm
Carton dimensions (WxDxH):
385 x 279 x 114 mm
Product weight in carton:
2.11 kg

Deep-Fry Pan (Flat Bottom & Long Handle) 2.5 Litre
CODE:ADL25
MRP: 1575
Diameter:
26 cm
Thickness:
4.06 mm
Carton dimensions (WxDxH):
438 x 286 x 120 mm
Product weight in carton:
1.72 kg

Deep-Fry Pan (Flat Bottom & Long Handle) 2.5 Litre
CODE:ADL25S
with stainless steel lid
MRP: 1950
Diameter:
26 cm
Thickness:
4.06 mm
Carton dimensions (WxDxH):
438 x 286 x 120 mm
Product weight in carton:
2.02 kg

Deep-Fry Pan (Flat Bottom) 2.5 Litre
CODE:AD25
with 2 short handles
MRP: 1650
Diameter:
26 cm
Thickness:
4.06 mm
Carton dimensions (WxDxH):
376 x 278 x 118 mm
Product weight in carton:
1.58 kg

Deep-Fry Pan (Flat Bottom) 2.5 Litre
CODE:AD25S
with stainless steel lid
MRP: 2025
Diameter:
26 cm
Thickness:
4.06 mm
Carton dimensions (WxDxH):
376 x 278 x 118 mm
Product weight in carton:
1.8 kg

Deep-Fry Pan (Flat Bottom) 2.5 Litre
CODE:IAD25
with 2 short handles
MRP: 1765
Diameter:
26 cm
Thickness:
4.06 mm
Carton dimensions (WxDxH):
376 x 278 x 118 mm
Product weight in carton:
1.67 kg

Deep-Fry Pan (Flat Bottom) 2.5 Litre
CODE:IAD25S
with stainless steel lid
MRP: 2140
Diameter:
26 cm
Thickness:
4.06 mm
Carton dimensions (WxDxH):
376 x 278 x 118 mm
Product weight in carton:
1.95 kg

Fish-Fry Kadhai 2.5 Litre with Glass lid
CODE:AFFK25G
MRP: 1890
Diameter:
26 cm
Thickness:
3.25 mm
Carton dimensions (WxDxH):
370 x 284 x 130 mm
Product weight in carton:
2.3 kg

Deep-Fry Pan (Round Bottom) 2.75 Litre
CODE:AK275
(Kadhai)
MRP: 1700
Diameter:
26 cm
Thickness:
4.06 mm
Carton dimensions (WxDxH):
340 x 340 x 131 mm
Product weight in carton:
1.78 kg

Deep-Fry Pan (Round Bottom) 2.75 Litre
CODE:AK275S
with stainless steel lid
MRP: 2075
Diameter:
26 cm
Thickness:
4.06 mm
Carton dimensions (WxDxH):
340 x 340 x 131 mm
Product weight in carton:
2.04 kg

Deep-Fry Pan (Flat Bottom) 3.75 Litre
CODE:AD375
with 2 short handles
MRP: 1875
Diameter:
30 cm
Thickness:
4.06 mm
Carton dimensions (WxDxH):
398 x 311 x 137 mm
Product weight in carton:
2.01 kg

Deep-Fry Pan (Flat Bottom) 3 Litre
CODE:AD30
MRP: 1775
Diameter:
28 cm
Thickness:
4.06 mm
Carton dimensions (WxDxH):
400 X 303 X 126 mm
Product weight in carton:
1.62 kg

Deep-Fry Pan (Flat Bottom) 3 Litre
CODE:AD30G
with Glass Lid
MRP: 2150
Diameter:
28 cm
Thickness:
4.06 mm
Carton dimensions (WxDxH):
400 X 303 X 131 mm
Product weight in carton:
2.48 kg

Deep-Fry Pan (Flat Bottom) 3.75 Litre
CODE:AD375S
with stainless steel lid
MRP: 2300
Diameter:
30 cm
Thickness:
4.06 mm
Carton dimensions (WxDxH):
398 x 311 x 137 mm
Product weight in carton:
2.34 kg

Deep Fry Pan (Flat Bottom) 3.75 Litre
CODE:IAD375
with 2 short handles
MRP: 1995
Diameter:
30 cm
Thickness:
4.06 mm
Carton dimensions (WxDxH):
398 x 311 x 137 mm
Product weight in carton:
2.15 kg

Deep Fry Pan (Flat Bottom) 3.75 Litre
CODE:IAD375S
with stainless steel lid
MRP: 2420
Diameter:
30 cm
Thickness:
4.06 mm
Carton dimensions (WxDxH):
398 x 311 x 137 mm
Product weight in carton:
2.48 kg

Deep-Fry Pan (Flat Bottom) 3.75 Litre
CODE:IAD375G
with Glass lid
MRP: 2420
Diameter:
30 cm
Thickness:
4.06 mm
Carton dimensions (WxDxH):
401 x 323 x 140 mm
Product weight in carton:
2.85 kg

Deep Fry Pan (Round Bottom) 4 Litre
CODE:AK40
(Kadhai)
MRP: 2000
Diameter:
30 cm
Thickness:
4.06 mm
Carton dimensions (WxDxH):
410 x 305 x 160 mm
Product weight in carton:
2.22 kg

Deep Fry Pan (Round Bottom) 4 Litre
CODE:AK40S
with stainless steel lid
MRP: 2425
Diameter:
30 cm
Thickness:
4.06 mm
Carton dimensions (WxDxH):
410 x 305 x 160 mm
Product weight in carton:
2.53 kg

Deep-Fry Pan (Flat Bottom) 5 Litre
CODE:AD50
with 2 short handles
MRP: 2200
Diameter:
33 cm
Thickness:
4.06 mm
Carton dimensions (WxDxH):
428 x 331 x 145 mm
Product weight in carton:
2.05 kg

Deep-Fry Pan (Flat Bottom) 5 Litre
CODE:AD50S
with stainless steel lid
MRP: 2675
Diameter:
33 cm
Thickness:
4.06 mm
Carton dimensions (WxDxH):
428 x 331 x 145 mm
Product weight in carton:
2.42 kg

Deep-Fry Pan (Flat Bottom) 7.5 Litre
CODE:AD75
with 2 short handles
MRP: 2725
Diameter:
36 cm
Thickness:
4.06 mm
Carton dimensions (WxDxH):
476 x 369 x 161 mm
Product weight in carton:
3.06 kg

Deep-Fry Pan (Flat Bottom) 7.5 Litre
CODE:AD75S
with stainless steel lid
MRP: 3275
Diameter:
36 cm
Thickness:
4.06 mm
Carton dimensions (WxDxH):
476 x 369 x 161 mm
Product weight in carton:
3.5 kg

Breakfast Pan (Appachatty) 0.9 Litre
CODE:NBFP09
MRP: 1010
Diameter:
22 cm
Thickness:
3.25 mm
Carton dimensions (WxDxH):
354 x 226 x 83 mm
Product weight in carton:
0.77 kg

Breakfast Pan (Appachatty) 0.9 Litre
CODE:NBFP09G
with glass lid
MRP: 1320
Diameter:
22 cm
Thickness:
3.25 mm
Carton dimensions (WxDxH):
341 x 246 x 98 mm
Product weight in carton:
1.43 kg

Deep-Fry Pan (Round Bottom) 1.5 Litre
CODE:NK15
(Kadhai)
MRP: 1125
Diameter:
22 cm
Thickness:
3.25 mm
Carton dimensions (WxDxH):
295 x 288 x 97 mm
Product weight in carton:
1.09 kg

Deep-Fry Pan (Round Bottom) 1.5 Litre
CODE:NK15S
with stainless steel lid
MRP: 1390
Diameter:
22 cm
Thickness:
3.25 mm
Carton dimensions (WxDxH):
295 x 288 x 97 mm
Product weight in carton:
1.31 kg

Stir-Fry Pan (Flat Bottom, Long Handle) 2 Litre
CODE:NDL20
MRP: 1195
Diameter:
26 cm
Thickness:
3.25 mm
Carton dimensions (WxDxH):
418 x 278 x 91 mm
Product weight in carton:
1.25 kg

Stir-Fry Pan (Flat Bottom, Long Handle) 2 Litre
CODE:NDL20S
with stainless steel lid
MRP: 1525
Diameter:
26 cm
Thickness:
3.25 mm
Carton dimensions (WxDxH):
418 x 278 x 91 mm
Product weight in carton:
1.49 kg

Stir-Fry Pan (Flat Bottom, Long Handle) 2 Litre with Glass lid
CODE:NDL20G
MRP: 1525
Diameter:
26 cm
Thickness:
3.25 mm
Carton dimensions (WxDxH):
411 x 277 x 121 mm
Product weight in carton:
1.91 kg

Deep Fry Pan (Flat Bottom) 2.5 Litre
CODE:ND25
MRP: 1575
Diameter:
26 cm
Thickness:
3.25 mm
Carton dimensions (WxDxH):
375 x 283 x 120 mm
Product weight in carton:
1.58 kg

Deep Fry Pan (Flat Bottom) 2.5 Litre
CODE:ND25S
with stainless steel lid
MRP: 1950
Diameter:
26 cm
Thickness:
3.25 mm
Carton dimensions (WxDxH):
375 x 283 x 120 mm
Product weight in carton:
1.86 kg

Deep Fry Pan (Flat Bottom) 2.5 Litre
CODE:IND25
MRP: 1690
Diameter:
26 cm
Thickness:
3.25 mm
Carton dimensions (WxDxH):
379 x 280 x 119 mm
Product weight in carton:
1.54 kg

Deep Fry Pan (Flat Bottom) 2.5 Litre
CODE:IND25S
with stainless steel lid
MRP: 2065
Diameter:
26 cm
Thickness:
3.25 mm
Carton dimensions (WxDxH):
379 x 280 x 119 mm
Product weight in carton:
1.82 kg

Deep Kadhai (Flat Bottom) 2.5 Litre
CODE:INDK25G
with Glass lid
MRP: 2065
Diameter:
24 cm
Thickness:
3.25 mm
Carton dimensions (WxDxH):
376 x 267 x 136 mm
Product weight in carton:
1.93 kg

Shallow Kadhai (Flat Bottom) 2.5 Litre with Glass lid
CODE:INSK25G
MRP: 2065
Diameter:
26 cm
Thickness:
3.25 mm
Carton dimensions (WxDxH):
384 x 270 x 119 mm
Product weight in carton:
2 kg

Deep-Fry Pan (Round Bottom) 2.5 Litre
CODE:NK25
(Kadhai)
MRP: 1420
Diameter:
26 cm
Thickness:
3.25 mm
Carton dimensions (WxDxH):
355 x 267 x 118 mm
Product weight in carton:
1.39 kg

Deep-Fry Pan (Round Bottom) 2.5 Litre
CODE:NK25S
with stainless steel lid
MRP: 1750
Diameter:
26 cm
Thickness:
3.25 mm
Carton dimensions (WxDxH):
355 x 267 x 118 mm
Product weight in carton:
1.65 kg

Stir-Fry Wok 3 Litre
CODE:INW30
(Deep-Fry Pan)
MRP: 1900
Diameter:
28 cm
Thickness:
3.25 mm
Carton dimensions (WxDxH):
478 x 287 x 150 mm
Product weight in carton:
1.82 kg

Stir-Fry Wok 3 Litre
CODE:INW30S
with stainless steel lid
MRP: 2275
Diameter:
28 cm
Thickness:
3.25 mm
Carton dimensions (WxDxH):
478 x 287 x 150 mm
Product weight in carton:
2.1 kg

Deep Kadhai (Flat Bottom) 3.5 Litre
CODE:INK35
with 2 short handles
MRP: 1975
Diameter:
26.7 cm
Thickness:
3.25 mm
Carton dimensions (WxDxH):
402 x 309 x 139 mm
Product weight in carton:
1.03 kg

Deep Kadhai (Flat Bottom) 3.5 Litre with stainless steel lid
CODE:INK35S
with 2 short handles
MRP: 2350
Diameter:
26.9 cm
Thickness:
3.25 mm
Carton dimensions (WxDxH):
402 x 309 x 139 mm
Product weight in carton:
1.32 kg

Deep-Fry Pan (Round Bottom) 4 Litre
CODE:NK40
(Kadhai)
MRP: 1875
Diameter:
30 cm
Thickness:
3.25 mm
Carton dimensions (WxDxH):
389 x 305 x 129 mm
Product weight in carton:
1.75 kg

Deep-Fry Pan (Round Bottom) 4 Litre
CODE:NK40S
with stainless steel lid
MRP: 2275
Diameter:
30 cm
Thickness:
3.25 mm
Carton dimensions (WxDxH):
389 x 305 x 129 mm
Product weight in carton:
2.08 kg

Deep Kadhai (Flat Bottom) 5 Litre with Glass lid
CODE:INK50G
with 2 short handles
MRP: 2825
Diameter:
30.4 cm
Thickness:
3.25 mm
Carton dimensions (WxDxH):
428 x 339 x 156 mm
Product weight in carton:
3.08 kg