Futura Cook-n-Serve Bowls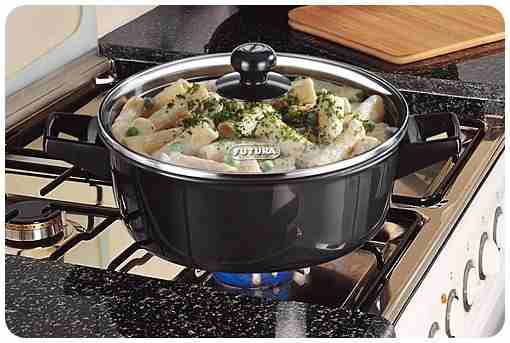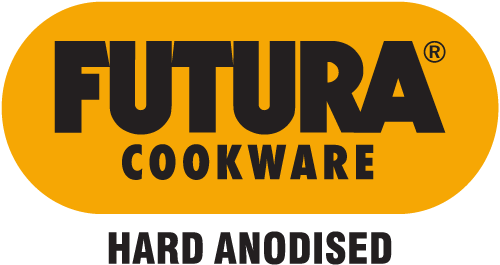 Hard Anodised

Futura Hard Anodised Cook-n-Serve Bowls are ideal for cooking a wide range of Indian and Werstern dishes. The 4 mm thick base and sides of these Cook-n-Serve Bowls spread heat evenly and retain warmth for a long time - making them excellent utensils for both cooking and serving. Cooking and Serving in the same bowl makes good sense - the food stays hot longer and you have less to clean up and less for storage. These bowls are designed for convenient cooking and elegance on the dinning table. The Hard Anodised finish on these bowls will stay looking new for years. Each bowl comes with an instruction manual with 12 tested recipes.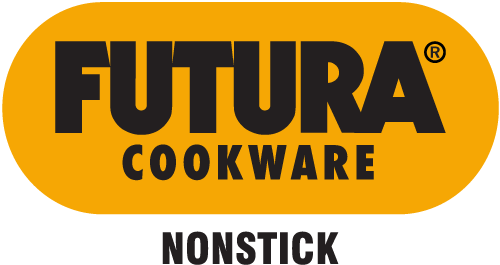 Nonstick

The Futura Nonstick Cook-n-Serve Bowl elegantly offers the concept of Cooking and Serving in Nonstick. The unique combination of 4 mm thick base and sides and superior Nonstick coating allows for a wide variety of food preparation. The Futura Nonstick Cook-n-Serve Bowl is suitable for Biryani, dum cooking, preparing rice, pilau and khichdi, making stews, curries, cabbage rolls, stuffed vegetables, and also for sautéing vegetables, seafood, chicken and meat.
Listed below are the different models of Futura Cook-n-Serve Bowls




Prices shown are Maximum Retail Prices (M.R.P.) in Indian Rupees applicable in India

All induction compatible cookware on this colour background

HARD ANODISED

NONSTICK

Cook-n-Serve Bowl 2 Litre
CODE:ACB20
MRP: 1375
Diameter:
20 cm
Thickness:
4.06 mm
Carton dimensions (WxDxH):
297 x 226 x 123 mm
Product weight in carton:
1.48 kg

Cook-n-Serve Bowl 3 Litre
CODE:ACB30
MRP: 1750
Diameter:
23 cm
Thickness:
4.06 mm
Carton dimensions (WxDxH):
316 x 254 x 129 mm
Product weight in carton:
1.78 kg

Cook-n-Serve Bowl 3 Litre
CODE:IACB30
MRP: 1890
Diameter:
23 cm
Thickness:
4.06 mm
Carton dimensions (WxDxH):
316 x 254 x 129 mm
Product weight in carton:
1.93 kg

Cook-n-Serve Bowl 4 Litre
CODE:ACB40
MRP: 1870
Diameter:
23 cm
Thickness:
4.06 mm
Carton dimensions (WxDxH):
316 x 254 x 161 mm
Product weight in carton:
2.13 kg

Cook-n-Serve Bowl 5 Litre
CODE:ACB50
MRP: 2090
Diameter:
23 cm
Thickness:
4.06 mm
Carton dimensions (WxDxH):
316 x 254 x 177 mm
Product weight in carton:
2.33 kg

Cook-n-Serve Bowl 6 Litre
CODE:ACB60
MRP: 2325
Diameter:
27 cm
Thickness:
4.06 mm
Carton dimensions (WxDxH):
360 x 297 x 168 mm
Product weight in carton:
2.71 kg

Cook-n-Serve Bowl 3 Litre with Glass lid
CODE:NCB30G
MRP: 1975
Diameter:
23 cm
Thickness:
4.06 mm
Carton dimensions (WxDxH):
316 x 254 x 129 mm
Product weight in carton:
2.25 kg

Cook-n-Serve Bowl 4 Litre
CODE:NCB40G
with Glass lid
MRP: 2095
Diameter:
24 cm
Thickness:
4.06 mm
Carton dimensions (WxDxH):
319 X 256 X 168 mm
Product weight in carton:
2.42 kg