Futura Saucepans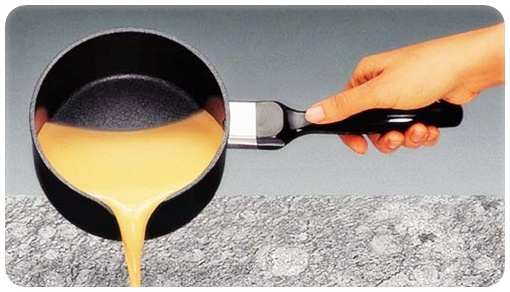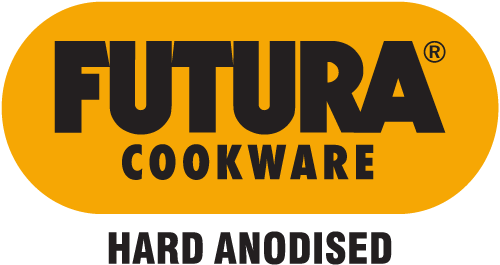 Hard Anodised

The Futura Hard Anodised Handi (Saucepan) is a modern version of the traditional Indian cooking utensil used for flavourful, less-water cooking. Its lid holds water on the top and, on its underneath surface, condenses steam that rises from the food simering in the Handi. The reverse taper of the sloping sides of the Handi permits water droplets to fall directly on to the food inside the Handi - thus making delicious, tender and moist food. The Handi (Saucepan) comes in two versions: with one long and one short handle; and with two short handles.

The One Litre Futura Hard Anodised Saucepan comes with a spout for pouring and is specially suitable for making tea or other beverages and boiling milk. The larger capacity Saucepans have flared rims. All Saucepans either come with lid or are offered with an optional lid. The Saucepans have one long handle.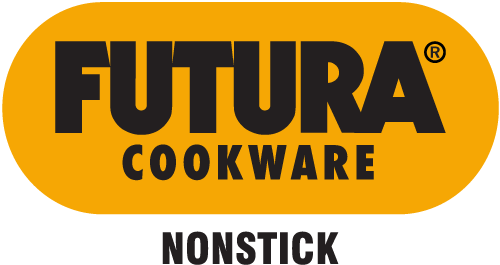 Nonstick

Futura Nonstick Saucepans come with a single long handle and are offered with and without lids The One Litre Saucepan has a spout for pouring.
Listed below are the different models of Futura Saucepans




Prices shown are Maximum Retail Prices (M.R.P.) in Indian Rupees applicable in India

All induction compatible cookware on this colour background

HARD ANODISED

NONSTICK

Saucepan 1.5 Litre
CODE:IAS15
(Ezee-pour)
MRP: 1090
Diameter:
16 cm
Thickness:
3.25 mm
Carton dimensions (WxDxH):
328 x 196 x 120 mm
Product weight in carton:
1.04 kg

Saucepan 1.5 Litre
CODE:IAS15S
with stainless steel lid
MRP: 1275
Diameter:
16 cm
Thickness:
3.25 mm
Carton dimensions (WxDxH):
328 x 196 x 120 mm
Product weight in carton:
1.19 kg

Saucepan 1 Litre
CODE:AS10
(Ezee-pour)
MRP: 860
Diameter:
14 cm
Thickness:
3.25 mm
Carton dimensions (WxDxH):
316 x 162 x 108 mm
Product weight in carton:
0.8 kg

Saucepan 1 Litre
CODE:AS10S
with stainless steel lid
MRP: 1010
Diameter:
14 cm
Thickness:
3.25 mm
Carton dimensions (WxDxH):
316 x 162 x 108 mm
Product weight in carton:
0.89 kg

Saucepan 1.5 Litre
CODE:AS15
(Ezee-pour)
MRP: 975
Diameter:
16 cm
Thickness:
3.25 mm
Carton dimensions (WxDxH):
347 x 179 x 117 mm
Product weight in carton:
0.94 kg

Saucepan 1.5 Litre
CODE:AS15S
with stainless steel lid
MRP: 1160
Diameter:
16 cm
Thickness:
3.25 mm
Carton dimensions (WxDxH):
347 x 179 x 117 mm
Product weight in carton:
1.04 kg

Saucepan 2 Lritre
CODE:IAS20
(Ezee-pour)
MRP: 1150
Diameter:
18 cm
Thickness:
3.25 mm
Carton dimensions (WxDxH):
355 x 200 x 120 mm
Product weight in carton:
1.18 kg

Saucepan 2 Litre
CODE:IAS20S
with stainless steel lid
MRP: 1390
Diameter:
18 cm
Thickness:
3.25 mm
Carton dimensions (WxDxH):
355 x 200 x 120 mm
Product weight in carton:
1.32 kg

Saucepan 2.25 Litre
CODE:AS225
MRP: 1100
Diameter:
18 cm
Thickness:
3.25 mm
Carton dimensions (WxDxH):
351 x 205 x 121 mm
Product weight in carton:
1.33 kg

Saucepan 2.25 Litre
CODE:AS225S
with stainless steel lid
MRP: 1340
Diameter:
18 cm
Thickness:
3.25 mm
Carton dimensions (WxDxH):
351 x 205 x 121 mm
Product weight in carton:
1.33 kg

Saucepan 1 Litre
CODE:NS10
MRP: 925
Diameter:
14 cm
Thickness:
3.25 mm
Carton dimensions (WxDxH):
322 x 162 x 103 mm
Product weight in carton:
0.84 kg

Saucepan 1 Litre
CODE:NS10S
with stainless steel lid
MRP: 1075
Diameter:
14 cm
Thickness:
3.25 mm
Carton dimensions (WxDxH):
322 x 162 x 103 mm
Product weight in carton:
0.94 kg

Saucepan 3 Litre
CODE:NS30
MRP: 1395
Diameter:
20 cm
Thickness:
3.25 mm
Carton dimensions (WxDxH):
387 x 235 x 126 mm
Product weight in carton:
1.32 kg

Saucepan 3 Litre
CODE:NS30S
with stainless steel lid
MRP: 1660
Diameter:
20 cm
Thickness:
3.25 mm
Carton dimensions (WxDxH):
387 x 235 x 126 mm
Product weight in carton:
1.48 kg

Saucepan 3 Litre with Glass lid
CODE:NS30G
MRP: 1660
Diameter:
20 cm
Thickness:
3.25 mm
Carton dimensions (WxDxH):
367 x 240 x 146 mm
Product weight in carton:
1.8 kg